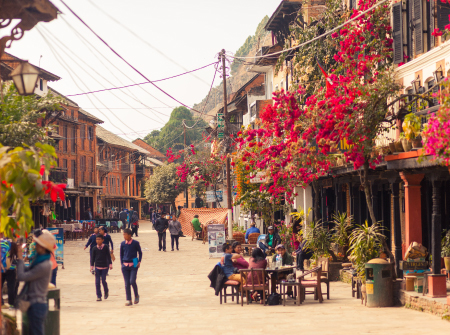 Bandipur

Bandipur
Midway on the road between Kathmandu and Pokhara you will discover the charming hilltop town of Bandipur. Once an old Newar trading post, Bandipur stands out for having both remarkably retained and beautifully preserved its rich cultural, historical, and architectural legacies. In the 18th century, following the conquest of the Kathmandu Valley, the obscure mountain village was transformed into a bustling trading post that grew in wealth and importance – traders came from Tibet with musk pods, mountain herbs, animal skins, and horses. Calico, tobacco, glassware, and kerosene came in from British India. However, Nepal opened her doors to the world in the 1950s, and in 1972 the Kathmandu-Pokhara highway was built – by-passing Bandipur altogether. This was a blessing in disguise – allowing the town to retain its distinctiveness and originality. The still firm and sturdy buildings here – used today to house shops, cafes, and lodgings – stand testament to it. Today, the charming town invites travellers to experience its unique array of sights that offer a wonderful mix of Newari architecture, incredible mountain views, fascinating festivals, temples, sacred caves, and unspoiled landscapes – all harking back to the glorious Kathmandu Valley of old. The surrounding hills of Bandipur are ideal for hiking along fabulous trails (especially at Dumre Bazaar) that take you through tribal villages, pristine forests, and hilltop shrines that once doubled as fortresses.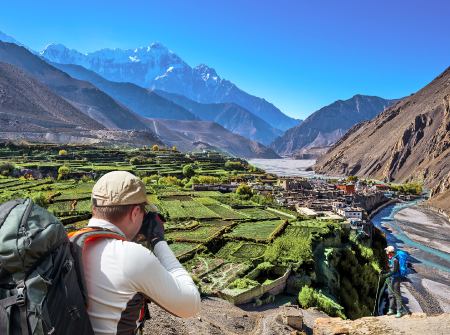 Mustang

Mustang
The last independent kingdom of Nepal, Mustang or Upper Mustang is a place of stark and sublime beauty. Trekking here can be both arduous and daunting but, it is a rare privilege, worth every bit of your time and energy for the pristine landscape, the spiritual energy, and the hardy, vigourous culture of its true mountain people. This spectacular hidden kingdom with its arid desert valleys, sandstone cliffs, and primal terrain, is one of the most protected, undisturbed, and preserved regions in the world. Geographically, Upper Mustang lies on the edge of the Tibetan plateau, cut off from the rest of the world. Once part of greater Tibet, Mustang remains suffused with Tibetan culture and religion. It is a treasure trove of Tibetan Buddhist art, frescoes, rare and ancient manuscripts, sacred books written in gold, gorgeous silk thangkas, and statues in bronze or copper. Mustang's big draw is the fabled walled city of Lo-Manthang, the ancient capital of its royals, who continue to live here. Mustang offers some magnificent trek trails, luring you with the promise of adventure and rewarding you with astounding sights. Pass through white-washed isolated villages, meet local families for a meaningful cultural exchange, discover incredible cultural diversity, see colourful Buddhist shrines and monasteries, and simply absorb the deep quietude and near-magical views of sky and mountain. High up in the narrow cliffs, is an incredibly surreal sight – the colourful rock formations show off rows of thousands of unexplored man-made caves dug centuries ago. Mustang hosts quite a few festivals and religious ceremonies. If your trek happens to coincide with the Tiji Festival in Lo-Manthang, stay on in the city to experience three days of vibrant celebrations and witness monks engage in a dazzling show of traditional dance, music, and re-enactment of Buddhist legends.

Bardia

Bardia
A trip to Bardia, Nepal's largest National Park and wilderness spread in the Terai, will reward you with superb wildlife-watching opportunities in an ambience surprisingly shielded from and undisturbed by tourism. The Bardia National Park protects vast areas of sal forests, grasslands, and savannah as well as one of Asia's largest stretches of tiger habitat, making it an ideal habitat for many species of wildlife. Bardia is home to the endangered Royal Bengal tiger and the one-horned rhinoceros. You will also spot populations of wild elephants and an amazing variety of mammals (30 different species), reptiles, aquatic animals, and birds (over250 species) here. These jungles in the south-western parts of Nepal are just an hour's flight away and let you experience the perfect mix of nature, culture, and adventure even as you enjoy the luxurious comfort of delightful jungle lodges. Enjoy a thrilling Jeep safari to see animals up-close; go on exciting nature walks accompanied by expert naturalists; combine your jungle adventure with white-water rafting on Nepal's longest river, the mighty Karnali that flows through here – if you are lucky, you might even spot the highly endangered Gangetic Dolphins or a gharial (crocodile species native to the Indian subcontinent). And if you want to do a spot of fishing, the rivers Karnali and Babai present lovely opportunities to do just that. The villages of the indigenous Tharu and Dangora people surround the Park, offering a great chance to interact with the charming locals and learn about their culture. The best time to visit Bardia is during the autumn, winter, or early summer when the weather is warm and dry. Bardia is accessible by land, by air, or one can even raft down the mighty Karnali River into the Park itself.