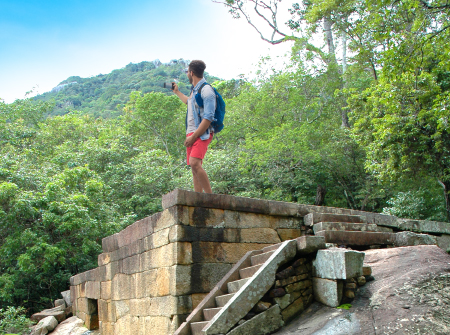 Ritigala

Ritigala
The highly atmospheric Ritigala Monastery has many legends and myths. Almost, each meticulously laid granite step and stone of the building whispers stories of the past, those long-ago days, when holy monks and ascetics ventured deep into the jungles to meditate. Even today, it's not easily accessible and once here, you may well feel as if you have strayed into the world of Indiana Jones. Located in the North Central Province of Sri Lanka, Ritigala is less than 200 km from Colombo and may also be accessed from the popular destinations of the Cultural Triangle such as Anuradhapura, Dambulla, Habarana, Polonnaruwa, and Sigiriya. The remoteness and solitude of Ritigala was ideal for hermits seeking a peaceful place for meditation and they started settling here right since the 3rd century BC or perhaps even before. Today, much of the ruins are simply the foundations, columns, and pathways that lead around this once massive monastery. This place is perfect for those people who have an imagination, love nature, and want to get off the beaten path. It is easy to spend at least a couple of hours exploring this ancient site, wandering along the ancient paths once trodden by monks over 1000 years ago. The best time to visit is early morning, not only to escape crowds but also to enjoy the serenity of the monastic ruins that make Ritigala a must-visit destination for any traveller.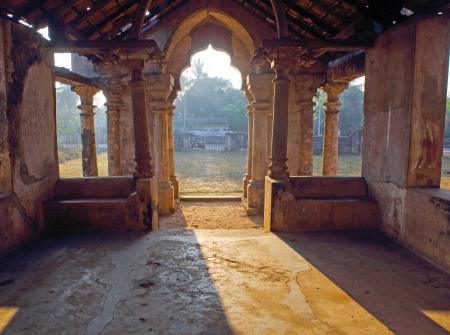 Jaffna

Jaffna
For almost 30 years, Jaffna in North Sri Lanka was cut off from travellers because of the civil war. The majority of the population comprises Sri Lankan Tamils who have a different language, different religion and a different cuisine. Today, with the return of peace, Jaffna is open again for travel and makes for a fascinating stop; almost a trip within a trip. The city still has scars from the bloody decades of the past but soldiers on relentlessly. Its inhabitants resolutely seek refuge in the present and the future. While the people of Sri Lanka are famous for their friendliness, Jaffna seems to stand out all the more. The locals simply love to chat with visitors and will go out of their way to help you. Their disarming smiles and friendly faces are bound to melt your heart. Attractions include pristine beaches, the slightly dilapidated 'Jaffna Fort', colourful Hindu temples, and hot springs with healing waters. The destination also has a vibrant history. As far as food goes, traditional Jaffna cuisine has a remarkably distinct flavour, which differentiates it from the rest of Sri Lankan cuisine – the taste is somewhat similar to South Indian cuisine. Rise early and visit any local eatery for breakfast served on a banana leaf with a hot cup of masala (spicy) tea. Sweets are aplenty too, but the legendary Rio Ice crème is a must try. Jaffa fortunately is still very much 'off-the-beaten track' and precisely that's why it is a wonderful place to visit for anyone who would like to escape the crowds and see a very different side of this wonderful country.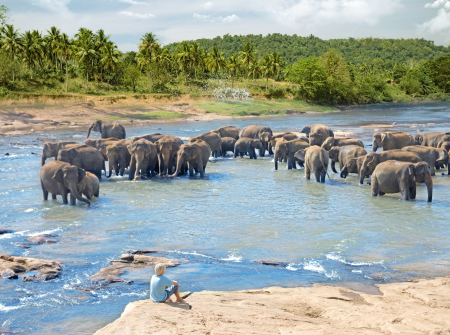 Wilpattu National Park

Wilpattu National Park
The largest national park in Sri Lanka, Wilpattu covers a humongous area of roughly 1085 square kilometres and is almost eight times the size of Yala National Park. This offbeat jungle destination has a more wild character as visitors are few, even during the peak season. In the Sinhalese dialect, Wilpattu translates as 'Land of the Lakes'. With its open scrublands, wetlands and thick jungle, Wilpattu keeps you guessing when on safari. One minute you will spot elephants and the next, water buffaloes. You may come across herds of deer drinking at the watering holes, or you may be lucky enough to even spot a leopard or two. And if you spot both together, you may well get the rare sight of watching a jungle predator at its hunt. There are also sloth bears and the lakes teem with crocodiles. All that water makes it a birding paradise and there are over 200 species. A few of the endemic ones include the pompadour green pigeon, Ceylon parakeet, red-backed woodpecker and the Ceylon grey hornbill. Wilpattu National Park is open all year round, but is best visited from May to September, or early October. The drought brings wildlife out to the waterholes as they can no longer get water in the deep jungles. Wilpattu is much more peaceful than Yala National Park, especially during the off-season months.